Admit it, you've thought about deleting the Instagram and Facebook app off of your phone before. So have I tbh. Social media takes a lot of time and effort. Especially if you're trying to grow a business online. And although it's energy consuming, here's why social media marketing is crucial for your small business.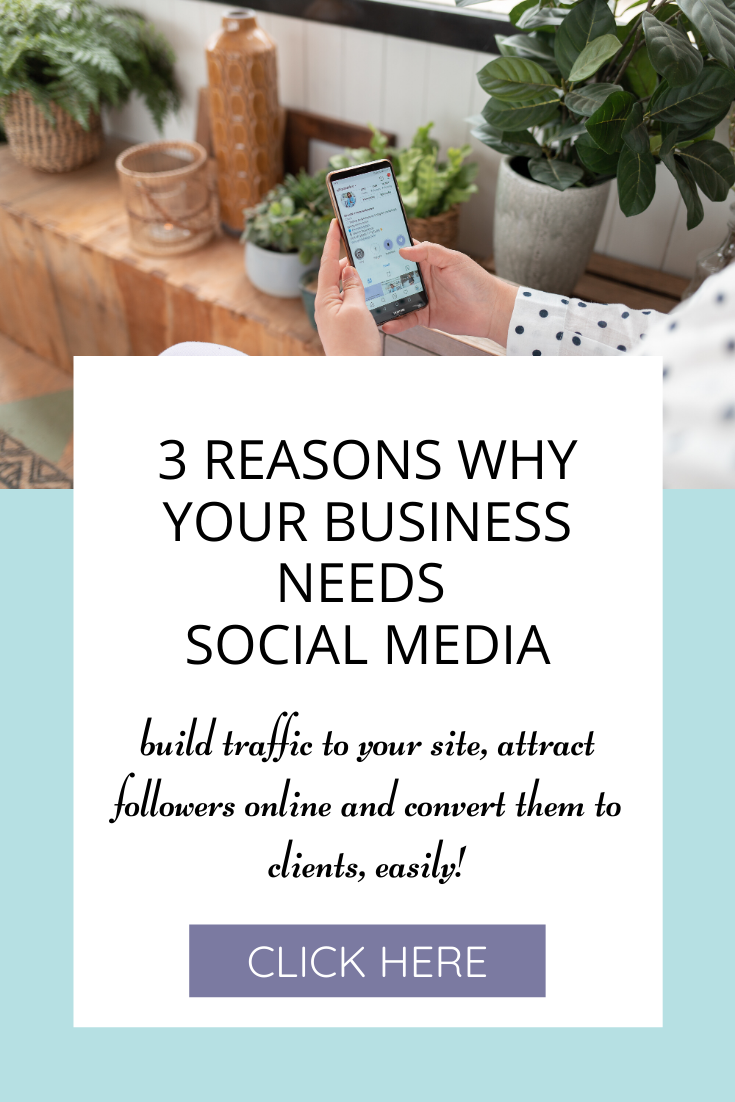 Social media marketing for small business reason #1: your clients are on it!
This alone should be reason enough to start your social media strategy. It's true. Most people use social media to lurk on their exes, post pictures of their kids and watch cat memes. However, they are on social media. It's where people hang out a few minutes (hours?) every day! It's the perfect space to introduce your brand.
Posting on social media as your business, gives people a chance to casually interact with your brand. It's a lot easier to like or comment on a post than to go to a website after hearing a radio commercial.
95% of people between the ages 18-34 say they follow brands on social media (!). That's a huge demographic. Now how do you make sure that this audience interacts with your content so that your brand gets the love it deserves? You need to add value. Whether that's through promotions, education, entertainment or conversations.
Using social media to get to know your audience better is the best reason to use it. Ask your audience questions, ask their opinion, or involve them in your offer creation. There are so many ways to build a relationship with your audience on social media. Use it to your advantage. Once you've built a relationship with your audience, they are more likely to trust you. Trust often leads to more conversion.
So, what are you waiting for?
Social media marketing for small business reason #2: generate traffic and leads
As you've seen in the paragraphs above, everyone and everyone's mom is on social media. It's the perfect pond to start fishing in! You need to reach as many people as you possibly can. Everyone in your hometown should know about your business. You can reach the masses on social media.
Social media is at the very top of a sales funnel for this exact reason. The minute someone comes into contact with your brand, there's a chance they will become your next client. The more people you reach, the bigger the chance! Once people follow you on social media, you should guide them to the next level of your funnel. Whether that's signing up to your newsletter, joining a webinar or downloading a freebie. Designing a sales funnel that converts should have your utmost attention.
You can reach people organically by posting high quality content, but you can also choose to use social media advertising. Ads are a perfect way to get your content seen by people who are possibly interested in your services and would have otherwise not have come into contact with your profile. Social media advertising is relatively cheap compared to advertising in traditional media (newspapers, radio, tv, etc.).
Social media marketing for small business reason #3: market research
Oh, you thought Instagram was only meant for posting cute pictures? No, friend. Turn your it into a marketing research machine. Social media is perfect for continually testing your sales copy, what type of images your audience responds to or what product your audience is most interested in. Just to name a few things…
Instead of seeing social media as a billboard for your services, turn your mindset around and use it to test everything in your business safely. People who follow you on social media already like you, so it's a safe space to see whether something works or not.
Try phrasing your offer multiple ways to see what people respond to best. Ask your audience for their opinion on your new service. Test what graphic works best. What color your audience likes. Or how many clicks to your website you get if you ask people to visit it. Test everything! Use the results of your testing to optimize your website, sales pages and sales process.
Social media isn't just for so-called influencers showing off their latest fashion trends and selfies. No. It's the holy grail of marketing if you ask me! Never before has it been easier to reach the masses and involve audiences in your business.
I would love to hear more about you and your business. Did you just start out? What is the biggest struggle you run into? Let me know in the comments below. And let me know which if these tips you are going to implement!